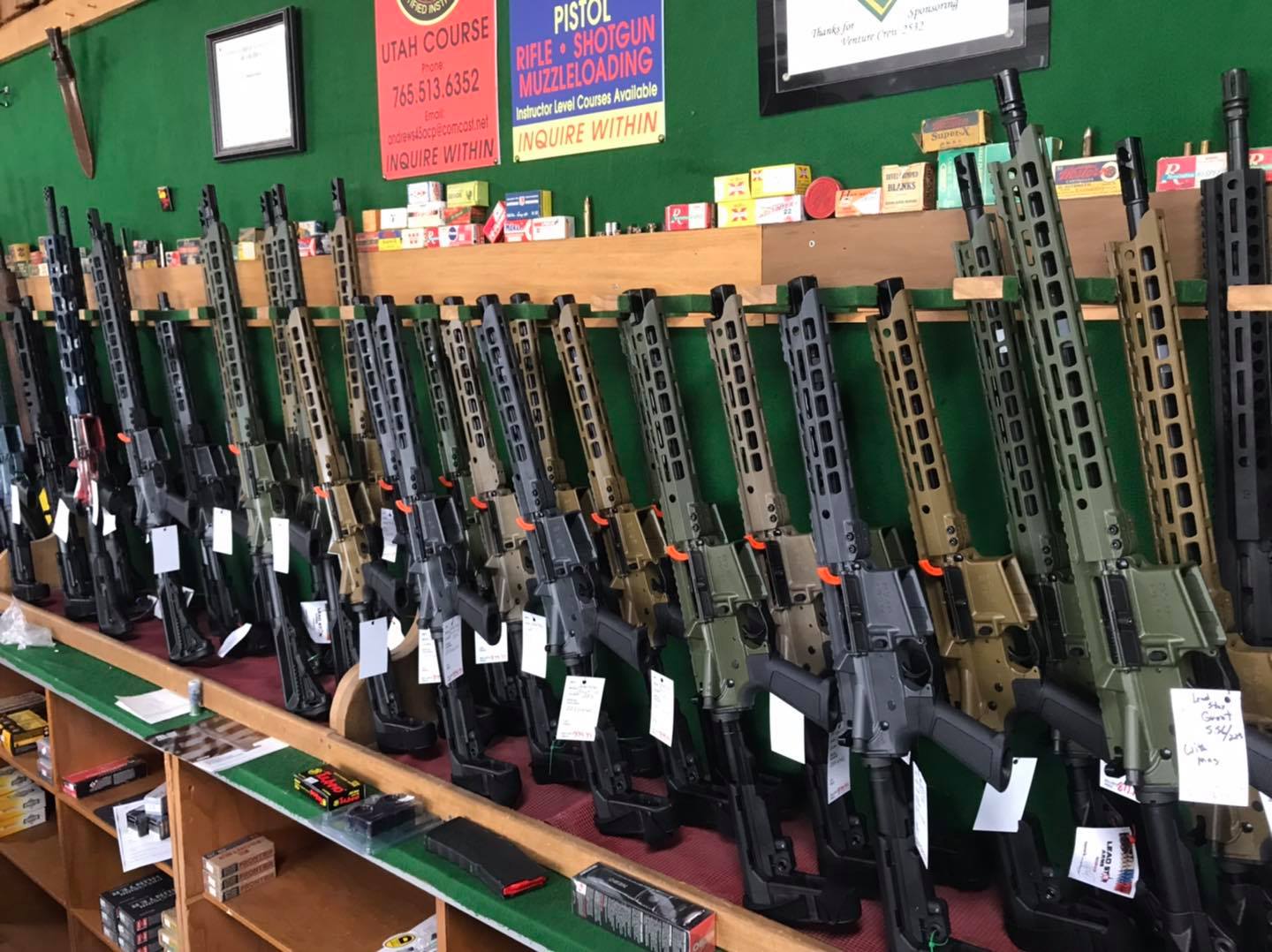 Are you a firearm enthusiast looking for a gun shop that loves guns as much as you do? Then stop by Shooters Emporium specializing in gun sales, trades, and purchases in the Kokomo area. We have 10 years of professional experience, and we know exactly what our customers need. Our dedicated experts can answer any client questions and help you get the gun addressing your needs.
Gun Sales Indianapolis Area
At Shooters Emporium, we can legally sell firearms and knives. In addition, we also have a great variety of firearm-related merchandise, including accessories, ammunition, Yeti coolers, and more. Our experienced and knowledgeable staff is dedicated to helping our clients find the perfect gun.
Buy Guns
As one of the leading providers of gun sales and gun dealers, Shooters Emporium buys guns. We buy guns, take in trades, and have a large selection of firearms, guns, and accessories for shooters of all levels. At our shop, we want every customer to have a great experience at Shooters Emporium and get the service and attention they deserve.
Gun Sales
At Shooters Emporium, we have a large selection of guns and firearms for shooters of all levels. Whether you are a sport shooter, hunter, tactical shooter, collector, or you are interested in home defense, we have the right gun for you. Our inventory changes daily, and we always have the newest guns to choose from.  Therefore, if you need a gun, make sure to come to our gun shop. In addition to guns, we also sell accessories, ammunition, Yeti coolers, and more.
Trade Guns
Are you looking for a gun trader in the Indianapolis area because you want to upgrade your old firearm or just want something new? Then, Shooters Emporium is the right place to go. We have been on the market for 10 years, and we have a great selection of guns and accessories. We trade guns every day, so make sure to stop by to check out our inventory that changes daily.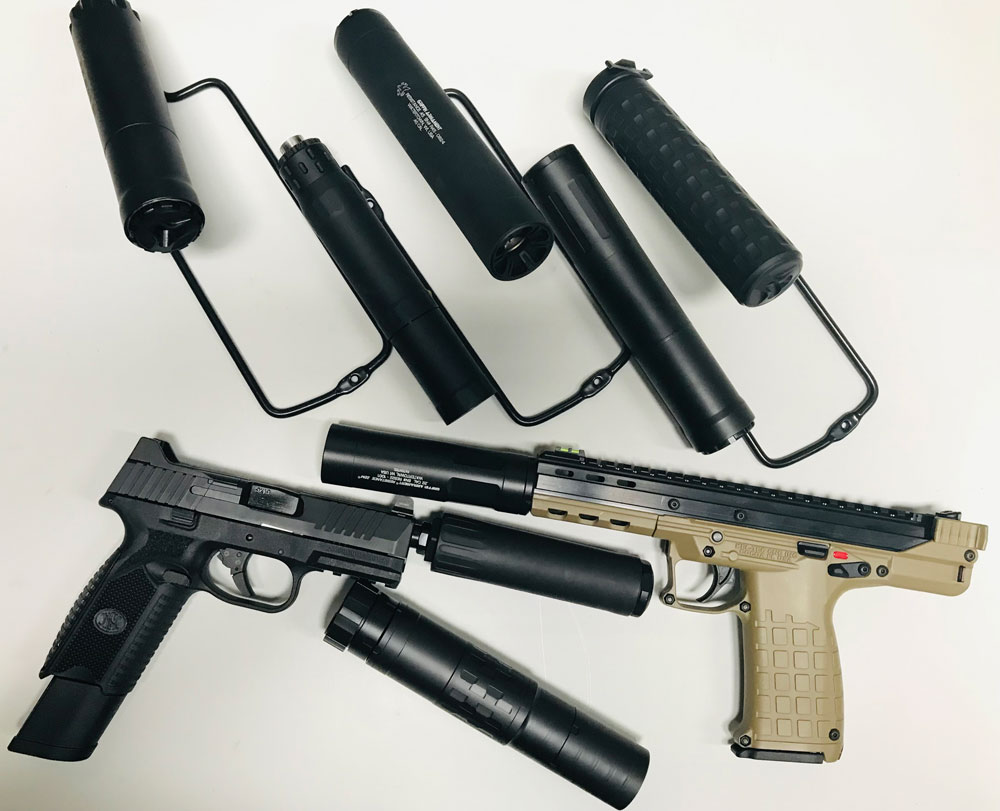 Silencer/Suppressor Sales Indianapolis Area
In the last few years, silencer/suppressor sales skyrocketed. Buying a gun silencer is easy with Shooters Emporium. We have a great variety of handguns and firearms silencers to choose from.
Gun Silencers
A gun silencer is a component that is attached to a gun. It helps muffle the noise of the pellet as it fires. There are numerous benefits of having a gun silencer and many reasons for having it. It is good for your hearing, home security, hunting practices, and enhanced accuracy.
Here are three different types of gun silencers:
Quick-detach silencer. This type of silencer can be attached quickly and easily. These types of silencers come in two sub-types – locking and non-locking, and they both are installed in similar ways.
Built-in silencer. Some guns have the silencer built right into the gun. It is an optimal and very convenient type of gun.
Threaded silencer. This type of silencer threads directly into the gun's threaded barrel.
If you are on the fence about purchasing a gun silencer, we are here to help you. Our professional and experienced staff will help you choose the right gun silencer based on the gun you own, your personal needs, and your budget.
Gun Suppressors
A gun suppressor is a muzzle accessory, the purpose of which is to reduce the acoustic intensity of the sound of a firearm, Suppressors dampen the explosive crack of a firing gun, which makes it more practical and comfortable for a shooter. Moreover, suppressors can also reduce the muzzle flash. Gun suppressors are becoming more and more popular today and are used often at shoring ranges and Hollywood.
Here are some facts about gun suppressors:
One of the main benefits of gun suppressors is their versatility, meaning that you can use the suppressor from gun to gun.
The caliber of your suppressor does not always have to match the caliber of your gun.
It is a good idea to invest in one or more gun suppressors, because it ensures your safety as a shooter.
When you use your suppressor, it is important to avoid overheating. The hotter the suppressor becomes, the faster it wears out.
Many people wonder if there is a difference between a silencer and a suppressor. A gun suppressor and silencer are the same things. The only difference is that a "silencer" is a legal term, while a "gun suppressor" is usually used to describe what the firearm does.
If you are looking for a gun suppressor in the Indianapolis area, you should stop by Shooters Emporium and check our inventory that is updated every day.
Are You Looking for a Professional Gun Shop and Firing Range near Indianapolis, IN?
If you are looking for a professional gun shop and firing range near Indianapolis, IN, you should check out Shooters Emporium. We are one of the leading gun shops in the area specializing in gun sales and trades. We carry a great selection of firearms, ammunition, and gun accessories. Our gun shop is a proud member of the NRA, so we can provide our customers with the great experience possible. Our inventory changes daily, so we have new products every day.
We also have a firing range, where we host gun safety classes for shooters. There is also a special offer for female shooters – every Wednesday ladies can use our range for free.
We do our best to provide our customers with a quality experience and help them find the perfect gun they will like and enjoy. To learn more about our gun shop, feel free to contact us today at 765-459-0077